Consultant in maritime history and creative lifestory
The sea and Lesbian, Gay, Bi-sexual, Trans, Queer and Intersex people
Are people's sexual identities and practices anyone else's business? And how are they relevant to the sea?
Well, the personal is political. And in a world that's oppressively heteronormative, injustices and the struggle to right them merits discussion. Merchant ships were the main place where British (and Swedish) men could be out and camp throughout the second half of the 20C. That's important, because it shows that people could suspend homophobia at will, even when 'homosexuality' was criminalised.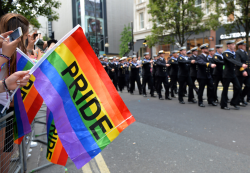 And the Royal Navy has since 2000 done one of the biggest about-turns of any employer. Instead of hanging 'miscreants', in 2016 the RN became number 10 in Stonewall's top 100 of gay-friendly employers.
From morality crusades to Polari-speaking sailors in Round the Horne, and from Querelle of Brest to Jean Paul Gaultier, Tom of Finland to the European Court of Human Rights, I've summarised it and consulted with maritime museums on how to improve their representation of queer seafarers.
Resources you can use
Illuminating and insightful history books have changed our understanding for ever, for example those by Allan Bérubé, George Chauncey, Matt Houlbrook, Emma Vickers and Arne Nilsson's 2005 book (only in Swedish) about the history of camp sub-culture on Swedish ships: Såna" på Amerikabåtarna: De svenska amerikabåtarna som manliga homomiljöer. It translates as 'Men like that' on the Swedish-American ships.
Where can you find out more?
I always welcome stories from LGBTQI seafarers. Get in touch [j_v_stanley@hotmail.com] if you'd like to share your story
for the next article or presentation I write
If you want help in shaping your story yourself, for publication or not
'A remarkable achievement of this history is the consummate ease with the complexities of human sexuality diversity are translated into a highly readable, compelling and perhaps most uncommon, a most entertaining history ... What a joy to read, which is not common in the world of academic history.'
Jeff Evans, organiser of LGBT History What it is and How to Do it conferences.
Paul Baker and Jo Stanley, Hello Sailor! A Hidden History of Gay Life at Sea, Pearson Education, 2003. Routledge, 2015
Discover my interview about writing it on the
Routledge History posts
.