Consultant in maritime history and creative lifestory
The sea and Lesbian, Gay, Bi-sexual, Trans, Queer and Intersex people
Are people's sexual identities and practices anyone else's business? And how are they relevant to the sea?
Well, the personal is political. And in a world that's oppressively heteronormative, injustices and the struggle to right them merits discussion. Merchant ships were the main place where British (and Swedish) men could be out and camp throughout the second half of the 20C. That's important, because it shows that people could suspend homophobia at will, even when 'homosexuality' was criminalised.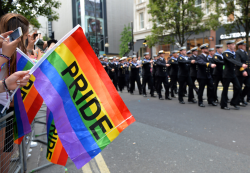 And the Royal Navy has since 2000 done one of the biggest about-turns of any employer. Instead of hanging 'miscreants', in 2019 the LGBT charity Stonewall placed naval services at number 15 in its top 100 list of LGBT-friendly employers: www.royalnavy.mod.uk/news-and-latest-activity/news/2019/january/21/190121-rn-rm-top-lgbt-employer.
From morality crusades to Polari-speaking sailors in Round the Horne, and from Querelle of Brest to Jean Paul Gaultier, Tom of Finland to the European Court of Human Rights, I've summarised it and consulted with maritime museums on how to improve their representation of queer seafarers.
Illuminating and insightful history books have changed our understanding for ever, for example those by Allan Bérubé, George Chauncey, Matt Houlbrook, Emma Vickers and Arne Nilsson's 2005 book (only in Swedish) about the history of camp sub-culture on Swedish ships: Såna" på Amerikabåtarna: De svenska amerikabåtarna som manliga homomiljöer. It translates as 'Men like that' on the Swedish-American ships.
Maritime museums
The recent news (in 2021) is that maritime museums are getting better at representing at LGBT+ history:
Michael Rudder (centre, in dark boob tube) in a crew show at sea, 1970s
Liverpool. See and hear National Museums Liverpool's 2021 podcast of a 1970s gay seafarers, a couple who've stayed together for 45 years. In A Lisbon Liaison Michael Rudder and Dominic Brown 'compare being cooped up together at sea to being in lockdown.' www.liverpoolmuseums.org.uk/lgbt-history/lgbt-oral-histories.
Dominic and Michael also feature in the Life on Board gallery in the Maritime Museum.
The main image for Desire Flows Like The Sea
Barcelona. Museu Marítim de Barcelona mounted the exhibition Desire Flows like the Sea. An LGBTIQ Look at Maritime Heritage, From 28 June - 14 November 2021. There is very much about the idea of sailor as butch object of desire, not seafaring person as nuanced subject-for-themselves.
See www.mmb.cat/en/exhibitions/desire-flows-like-the-sea/
Gone but far from forgotten
The deaths of two iconic GBT+ men who served at sea brought new attention to their lives:
Roy Wendy Gibson
, Falkland veteran and P&O Ferries steward.
April Ashley, sometimes acclaimed as the second UK person to transition. (She wasn't. She's wasn't even the first seafarer to transition. But she was the most high-profile one.) You can read copious amount about April, who died on 27 Dec 2021.
Her biography reveals she did not enjoy any rollicking camp counter-culture at sea in 1952, but was bullied. On the S.S. Pacific Fortune, a refrigerated cargo ship of 9,400 tons grt, to southern America, April found:
'There was a sharp distinction between the sea crew, who actually moved the vessel, and the stewards, who provided service for the elect. The sailors dismissed them as a "bunch of fairies"... 'With all the toil I should have been developing male muscles but I remained puppyish ... Always secretive about bathing, I was now so ashamed of my body that I crept out to shower in the middle of the night so that no one would see me unclothed ....
'The ragging of that first night was repeated ... Objectively nothing catastrophic happened - a few bruises in the scuffles - and the older men prevented matters getting out of hand. But it made me wretched. Sometimes they blew kisses and said "Hullo, ducks" or "girlie". They would wink, slap my bottom, slip an arm round my waist. What was one supposed to do back?
'... I was excited by it as well as afraid. Had I been among the stewards, possibly it would have been easier. But I was at the Men's End of the ship, in the throes of a profound identity crisis ... [Later] One of the stewards I met in the galley presented himself as a suitor but I didn't respond, having adopted the condescension of the sailors with regard to these lesser mortals. Besides, the rejection of all advances had become automatic.
' .... I was convinced a monstrous mistake had been made and only my being a woman would correct it ... The sailors must have thought me a very odd kettle of fish. I was over-polite with them through fear of involvement. Physically I had deteriorated, eating little, working feverishly in an attempt to block my thoughts -so much so that the Bo's'n took me aside and told me to take it easy. But I was under excessive emotional strain.
'The upshot was that, walking down the street in San Pedro, I saw a sign saying "Doctor" and went in. After an initial reticence I burst, ending up with "I want to be a woman!'" "That's insane!... I mean, you'll grow out of it." Which is what they were all to say.'
Source: Duncan Fallowell & April Ashley April Ashley's Odyssey, Jonathan Cape, London, 1982. www.antijen.org/Aprilv1/
Transitioning
For very different stories of seafarers transitioning, read about:
Dru Marland, a Male to Female (MTF) trans person who worked for P&O Ferries as a technician. You can see blow-by blow extracts from her diary from 2003, including a bitter and significant court case at beingdrusilla.wordpress.com/the-seafaring-diaries/
Michelle Clark, a MTF former deck officer, who worked for Sir William Reardon Smith's Company. See my interview with Michelle at bit.ly/MichelleNautilus. And read her book at From Ship to Shore & a Whole Lot More. (UK Book Publishing, June 2021, ISBN 1914195272, £14.50). It's now available at www.amazon.co.uk/Ship-Shore-Whole-Lot-More/dp/1914195272/. Until now no Trans maritime memoir has covered twelve years at sea, or been written by such a senior officer.
Where can you find out more?
Creating public memorials.
I'm hoping there'll be enough support for a Rainbow Seas intergenerational project. Young people could interview maritime veterans and help create virtual blue plaques to commemorate significant places in their lives.
Do contact me at [] if you'd like to be part of this.
My latest article
Entry on 'Military/ Navy in the United Kingdom', in Global Encyclopedia of Lesbian, Gay, Bisexual, Transgender ,and Queer History, Charles Scribner's Sons, New York & London, 2019, pp1066-1069, tinyurl.com/LGBTQ-new.
---
'A remarkable achievement of this history is the consummate ease with the complexities of human sexuality diversity are translated into a highly readable, compelling and perhaps most uncommon, a most entertaining history ... What a joy to read, which is not common in the world of academic history.'
Jeff Evans, organiser of LGBT History What it is and How to Do it conferences.
Paul Baker and Jo Stanley, Hello Sailor! A Hidden History of Gay Life at Sea, Pearson Education, 2003. Routledge, 2015
Discover my interview about writing it on the
Routledge History posts
.
I always welcome stories from LGBTQI seafarers. Get in touch [] if you'd like to share your story
for the next article or presentation I write
If you want help in shaping your story yourself, for publication or not
My recent work
I've recently been looking at the early history of maritime people transitioning, including Dr Michael Dillon and an unexplored Royal Navy doctor from WW2.
Reading on
Chapters
Journal Articles (selected)
My gendered sea blog entries on LGBT+ in maritime life
Book, conferences and exhibitions reviewed (selected)