Consultant in maritime history and creative lifestory
Welcome to my website
I'm a creative historian who works with museums, universities and in the community. Women who went to sea - whose travel transformed their lives forever - are my special area of expertise.
My especial interest is in the stories of people who have led marginalised lives in the past - and sought adventure, freedom and the space to be all they are, and might become.
In particular this means recording people, or helping them write their stories. They tend to be people who've taken jobs at sea despite the odds - like women, black and minority ethnic (BAME) and LGBTQI people - for whom seagoing meant sometimes liberation and sometimes injustice.
Ships are hypersexualised spaces for those confined in them. As a cultural historian, that's fascinating to me. They're heterotopias (meaning other places, like Wonderland) and liminal zones, (which means they explain a lot about our societies on land.)
I live in Marsden in the Pennines, the home village of Poet Laureate Simon Armitage. He describes it as a uniquely 'transcendent and transgressive location' but I celebrate it as a warm Alternative community.' And I work a lot in London and abroad. At Liverpool John Moores University I am Visiting Senior Research Fellow. At the University of Hull's Maritime Historical Studies Centre I am an Honorary Research Fellow.
My latest publications
Headstrong Barbara Strachey, gallivanting on windjammer in 1934
Square Rig and Moonlight, Marine Quarterly, Dec 2020, pp 96-101 The young Flappers who gallivanted from Finland to Australia on Gustaf Erikson's interwar windjammers interest me, not least because elite intellectuals fell in love with sailors - and it went wrong.
Bespectacled young Oxbridge graduate Barbara Strachey on the beautiful four-masted barque L' Avenir mused to the Sydney Daily Telegraph 'It must have been the fatal tropical moon' over the equator that beguiled her.'
Would-be second mate Annette Brock acted at Ray's bridesmaid, changing though she had no dress: "We must all have seemed extremely exotic to the locals...in this outlandish village", Port Germein.
By no means all Gustaf Erikson's women voyagers found love. Some were focused on their craft, such as sail-making.' Copious logs written by Winifred Lloyd and Catherine Bridger, stored at the National Maritime Museum in Greenwich, include few emotions, let alone bodice-ripper style confessions.
What they say about me
Lockdown compensations: recommendations to you
My favourite reading and viewing just now
HISTORY: Maya Jasanoff's The Dawn Watch: Joseph Conrad in a Global World (2017). No it's not about women. But it is a very deep and thoughtful literary work that reveals maritime histories in fascinating new ways.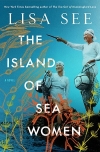 FICTION: Lisa Se, The Island of Sea Women (2019). Well-researched novel about women on the Korean island of Jeju in all-female collective of haenyeo (women divers). It's about love and family life in a matrifocal world where generation of women dare and men stay home to after the babies.
FILM: Fidelio: Alice's Odyssey (2016). Directed by Lucie Borleteau, this feature film is about how a woman handles multiple relationships in a floating goldfish bowl. But it's also about a woman chief engineer and her gendered career. This is probably the first film ever, by a woman, about a woman crew member's perspective and what has been a topic for pulp fiction, private discussion and welfare activists' concern. YouTube.
Catch This
Most of the public events I was involved in have been cancelled due to the crisis. Please watch this space for news.
Outing the Past will be making available a videoed talk I'm preparing for part of their festival. Sex, ships and small ads: Mick Belsten (1934-90) will be available on YouTube from late Spring 2021. Check at https://www.outingthepast.com/
Coming soon
'Rhododendrons and Raids: Dover naval women's daily life and emotions in 1918', in Maritime Kent, eds S Bligh, E Edwards and S Sweetinburgh, Boydell and Brewer, 2021
What am I doing now?
The Covid-19 crisis means I have more time to work on a new and very exciting women's maritime history book with my researcher Cigdem Hizarci. The exact topic is secret as yet. You will love it for the pictures alone.
I'm following the impact of the crisis on seafaring women, who are often the only women on their ships. See for example apprentice mechanic Hannah Gerlach's interview, BBC News at 10.34 am, 6 June 2020 in Corona Virus: Your stories.

This Hapag-Lloyd container ship worker was en route from the Persian Gulf to Singapore and due to sign off in March. She's still aboard, nearly 3 months later. Follow her on Instagram

Finishing Dangerous Adventures: civilian women save the wartime seas. It's a history book for Yale UP. Publication date tba but hopefully 2020.
Recent Blog items